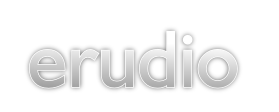 TERMS AND CONDITIONS

WELCOME TO ERUDIO LIMITED, PLEASE READ THESE TERMS AND CONDITIONS CAREFULLY AS YOU AGREE TO BE BOUND BY THEM, WHILST USING THIS WEBSITE
THIS WEBSITE IS OWNED & MAINTAINED BY ERUDIO LIMITED ("erudio") - Co. Reg. No. 5035344
Trademarks

"erudio" is a registered name. There may well be other trademarks or registered trademarks of respective owners used within this site.

Your Account

If you create an account on the erudio website, you are responsible for all activities that occur under your account or password. You should maintain the confidentiality and security of your password. If you think it has been used in an unauthorised manner, you should report it to us immediately. erudio limited reserves the right to close accounts, remove or edit content, or cancel orders as appropriate. If we cancel an order, no charge to yourself will be incurred.

Privacy

Please review our privacy policy as it governs the privacy practices undertaken by erudio.

Website Availability

At all times we will be doing our utmost to maintain the availability of the site or limit the duration of any downtime. However, due to the nature of the Internet we cannot guarantee the availability of the site at all times. Maintenance and repairs also have to be undertaken to improve the site, which may disrupt our service.

Copyright

All material, including text, graphics and source code are the copyright of erudio limited or its partners. Any unauthorised use of the materials on this site is strictly prohibited.

Packaging Disclaimer

Some items shown on this website may be presented in a packaged carton. This is purely for illustrative purposes. erudio limited reserve the right to amend packaging and specifications without prior notice.

Product Pricing and Availability

All prices shown on site exclude VAT unless otherwise stated. All products are available at the time of purchase unless you are pre-ordering when the product will be made available as soon as possible after the time of purchase. Some items, such as books and other printed materials, are zero rated for VAT purposes.

Payment

You can pay for your order online with confidence using PayPal ® using their secure servers. Alternatively, you can print off an order form and mail a cheque. If you are a bone fide school, educational establishment, toy shop or other commercial business, we may offer the facility to purchase goods on trade terms.

Delivery

In normal circumstances we will aim to deliver to UK destinations within 14 days of order receipt.

Returns

We understand that circumstances change and occasionally goods bought may no longer be required: If you wish to return any goods for a credit note or to receive a refund, please call 0151 644 0200 immediately. The return or cancellation period is limited to 7 days from the day you receive your order and all returns must come back complete and undamaged. No returns will be accepted after this time or without prior authorisation from erudio limited. This does not affect your statutory rights under UK regulations. erudio limited cannot accept responsibility for goods lost in transit after being sent back to us. The return of goods is the responsibility of the sender and we recommend sending them back by registered or recorded delivery.