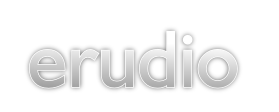 PRIVACY POLICY

WE HAVE DRAWN UP THIS PRIVACY POLICY TO INFORM YOU HOW WE COLLECT AND USE YOUR INFORMATION IN A CAREFUL, SENSIBLE MANNER IN COMPLIANCE WITH UK DATA PROTECTION LAW
THIS WEBSITE IS OWNED & MAINTAINED BY ERUDIO LIMITED ("erudio") - Co. Reg. No. 5035344
We know how much you care about the way your personal information is used.
We are committed to protecting the integrity and confidentiality of your information & appreciate the trust you place in us. By visiting this site, you are consenting to the procedures outlined in this policy.

Who Controls The Personal Information Collected?
All personal information collected is in the control of erudio limited, Gladstone House, 26 Bromborough Road, Wirral, Merseyside, CH63 7RF
How Do We Collect Your Personal Information?
The information we gain from you is essential in helping us continually improve the shopping experience of erudio limited. There are various types of customer information we collect:

• When you visit the site, we use cookies to collect Website usage information and information about your computer and internet connection, including your computer's IP address, the type and version of browser and operating system you use, your internet domain and, if you arrived at erudio.co.uk via a link from another Website, the referring URL.

• We will request you enter personal information when you are subscribing to our special email offers or placing an order:

• When you subscribe to erudio limited special email offers, we will request your name and email address.

• When you place an order from erudio limited, we will request all the personal information
required to complete the sale and deliver the item(s) purchased. This information will include: name, address, email address, telephone number, credit card details and shipping information. You will be given the option to receive email specials and erudio's newsletter, targeted mailings and Selected 3rd Party email offers.

• We will receive confirmation of you opening erudio limited HTML special offer emails by the use of special image tracking. This information is used as an indication of the popularity of the offer. You can unsubscribe from receiving email offers at any time.

What Is Your Personal Information Used For?
We use your personal information for five primary purposes:

• To alert you to product upgrades, special offers, updated information and other new services from erudio limited.

• To support the order process through order confirmation and product despatch notification.

• To make the erudio.co.uk website easier for you to use by enabling you to log-in and access your secure personal details.

• To help you personalise your website experience on erudio.co.uk.

• To help us create and deliver website content most relevant to you.

We also use the information for internal analysis to: